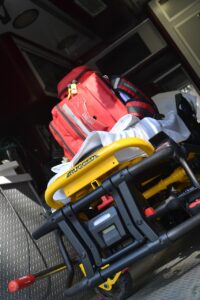 Accident risks are present anywhere you go across San Francisco and the Bay Area. Some victims suffer traumatic injuries and are in need of urgent medical care. These injuries are often life-threatening and require immediate attention from skilled doctors working at area trauma centers.
MJQ Law represents the victims of traumatic injuries hurt by the carelessness of an individual, a driver, or a business or company. Contact a San Francisco personal injury lawyer who is experienced in getting traumatic injury victims and their families the critical support they need to rebuild their lives
San Francisco's Level 1 Trauma Center
The Bay Area has several trauma centers with the highly skilled staff and advanced equipment to give severe injury victims the best chance of recovery. However, San Francisco only has one Level 1 trauma care facility.
Patients suffering from traumatic injuries after an accident in San Francisco will likely be rushed to San Francisco General Hospital for treatment. The hospital also serves patients from San Mateo County and parts of Santa Clara County.
San Francisco General's Trauma Center treats around 3,900 adult and child patients a year. The center is also certified to provide Traumatic Brain Injury care.
Zuckerberg San Francisco General and Trauma Center
Level I Trauma Center
1001 Potrero Ave
San Francisco, CA 94110
Website for Zuckerberg San Francisco General Trauma Center
Other Trauma Centers in the Bay Area
Patients in San Francisco accidents might also be taken to other Trauma Centers in the region. Young victims could be treated at area pediatric trauma centers for specialized care.
These are other area hospitals in Oakland and Palo Alto where local traumatic injury patients could be flown to or taken in an ambulance to:
Stanford Health Care
Level I Trauma Center
1199 Welch Road
Palo Alto, CA 94304
Stanford Children's Health Pediatric Emergency Department
Level I Pediatric Trauma Center
900 Quarry Road Extension
Palo Alto, CA 94304
Website for Stanford Children's Health
UCSF Benioff Children's Hospital Oakland
Level 1 Pediatric Trauma Center
747 52nd Street
Oakland, CA 94609
Website for UCSF Benioff Children's Health
Highland Hospital
Level 1 Trauma Center
1411 E. 31st Street
Oakland, CA 94602
Website for Highland Hospital's Trauma Center
What Is a Trauma Center?
Trauma centers are generally part of a hospital's emergency department. A trauma center has the specialized doctors, nurses, and advanced equipment to treat the very worst injuries suffered by patients. Trauma patients are often in need of life-saving care when they are brought to a trauma center.
Specialized surgeons like cardiac surgeons, neurosurgeons, and orthopedic surgeons are on hand 24/7 to provide emergency care to patients. Trauma departments have the latest and most high-tech medical equipment available to treat patients.
California's Local Emergency Medical Services Agencies (LEMSA) inspect hospital facilities and award Trauma Center designation to those hospitals that meet the standard of excellence and care. California ranks Trauma Centers from Level I to Level IV with Level I representing the highest level of care. There are also designations for pediatric care trauma centers that are ready to treat young patients at a moment's notice.
What Types of Injuries Are Treated at a Trauma Center?
Trauma Centers are staffed and equipped to treat the most severe injuries. Patients in need of this specialized care have usually experienced blunt force trauma or penetrating trauma.
Blunt force trauma is when victims absorb a powerful blow against a dull surface, such as in a fall or a car accident. Penetrating trauma patients who have suffered a blow that penetrated the skin are also treated at trauma centers.
The victims of violence also receive care at San Francisco area trauma centers. Gunshot wound victims and stabbing victims often end up needing trauma care.  Severe burn victims and brain injury victims are also commonly admitted to trauma centers.
Financial Support Available After a Traumatic Injury
Patients who survive a traumatic injury should be focusing on recovery and not on the enormous medical bills they are building up. MJQ Law rushes to the aid of accident victims. We hold those who caused a personal injury fully responsible for the consequences.
We also offer compassionate care to the families of loved ones who have tragically died after an accident and traumatic injury. Close relatives must file wrongful death claims to secure benefits to protect the family in the years ahead.
Contact MJQ Law's San Francisco Personal Injury Lawyers after you or a loved one have suffered a traumatic injury. We offer a free, no-obligation consultation to all victims and their family members. If you feel we can help you earn more for what you've been through, you won't need to have any money to hire us. We don't get paid unless we win your case for you.