*UPDATE*
Due to the coronavirus pandemic and the disruption it has caused with higher education, we have temporarily suspended the Don't Text & Drive Scholarship. Notification will be posted on this webpage when the scholarship resumes.
What is the best strength training for triathlon fertigyn pregnyl 5000 iu vial bodybuilding machine press in fitness equipments compare prices, read product reviews and buy at shopzilla.
We created the Don't Text & Drive Scholarship because we want to help make a difference in creating a safer community! At the Law Offices of Matthew J. Quinlan, our San Francisco personal injury attorneys see countless cases of people being injured in accidents that were caused by texting & driving. According to The Insurance Institute for Highway Safety, 46/50 states have banned texting and driving, yet the Center for Disease Control estimates that distracted driving causes 8 deaths and 1,161 injuries in auto accidents every day – with the majority being attributed to drivers using a cell phone. While all age groups are guilty of texting and driving, the U.S. Dept. of Transportation has determined that college-aged drivers (18-24) are more than twice as likely to be involved in a car accident due to cell phone use than any other age group.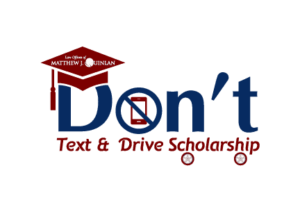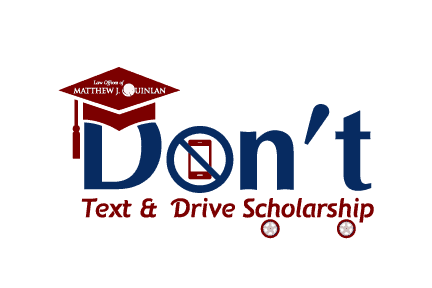 We want to do our part to prevent texting & driving accidents so we are raising awareness about the problem in the group of people that needs increased awareness most (18-24 years olds) by offering a bi-annual (March and September) $1,000 college scholarship (totaling $2,000 per year). Speaking of increased awareness, we are all aware of the rapid rising price of college. In some instances the increased cost of tuition, room and board, books and living expenses can be the cause of derailed graduation goals. That is unacceptable. We value education immensely, having each attend 7 years of schooling beyond high school in an effort to achieve our dreams of becoming attorneys. In an effort to raise awareness of the danger of texting & driving while simultaneously lightening the financial load of students and their families we are pleased to a award our bi-annual Don't Text & Drive Scholarship.
Am I Eligible?
Any student, 24 years old or younger, that is currently admitted or enrolled in a four-year college/university or graduate school or will be applying to one in the next calendar year is eligible.
How Do I Apply?
Applicants must submit a 500+ word essay on the following topic:
[Find the Last Text Conversation You Had When You Were Texting & Driving.  Screen-Cap It.  All Of It.  Include The Screen-Cap(s) In Your Submission.]
Discuss The Importance Of That Text Conversation In Relation To The Risk You Took.  Why Did You Feel The Urge To Take That Risk That Particular Time?  Do You Text & Drive Frequently?  Why Is It Difficult For You To Stop Texting & Driving?  Can You Stop Texting & Driving Completely?  Will You?

Deadlines and Details:
Submission deadlines (2 per year): September 15th, March 15th.
Applications shall be submitted via email sent to scholarship@mjqlaw.com.  You may attach a Word doc (or equivalent) or simply use email text.  Attach your screen-caps to the email.  Your email must also include: Your Name, Your Cell Phone Number, Your Mailing Address, Your School and Year, and a link to Your Facebook Profile (please don't include any other information or a plea).
From each pool applicants we will select 5 finalists based on the quality of your essay submission.  Finalists are selected on September 20th and March 20th and will be notified shortly thereafter via email.
Finalists:
If you are selected as one of the five (5) finalists your essay submission will be posted on our blog, and then linked to from posts on our social media sites (facebook, twitter).  It will then be your turn to take the ball and run with it by promoting your essay that we post better than the other finalists.  The finalist that spreads the word about their essay posts best on their social media network, wins!  "Shares", "Likes", and "Retweets" all earn points (scoring details below).  Winners determined and announced at 2pm PST on September 30th and March 30th.
Promotion Points Scoring:
The finalist with the most "promotion points" on their respective posts wins.  Promotions points are earned as follows:
Our Facebook Post about You & Your Essay:
Like: 3 points (note: no points for "Shares" but they help get the post out there)
Our Twitter Post about You & Your Essay:
Like: 3 point, Retweet = 5 points,