The Bay Area provides a fantastic backdrop for any motorcycle ride. Unfortunately, San Francisco traffic can make any trip dangerous for a rider. Too many local motorists don't take the time to look for the motorcyclists who travel our city. Distracted drivers can veer over on a motorcyclist in the next lane or fail to stop for a red light and ram a motorcycle from behind.
To give San Francisco motorists a visual reminder of the hazards they can pose to motorcyclists, The Law Offices of Matthew J. Quinlan took the lead on a 2023 motorcycle accident study. Our research compiles data on San Francisco motorcycle crashes over the past several years. It's a chance to examine where San Francisco currently stands on motorcycle accident safety and the goals we need to set for the rest of 2023 and beyond.
San Francisco Motorcycle Accident Statistics Update in 2023
According to California's Transportation Injury Mapping System (TIMS), San Francisco's number of serious motorcycle accidents has remained steady over the past few years. Thankfully, recent accident rates remain lower than pre-pandemic levels, but the reported incidents involving motorcycles are still far too high to ignore.
San Francisco documented 447 motorcycle accidents involving an injury in 2022. That was a slight increase over the two previous years. The hope is that 2023 cases won't continue the upward trend.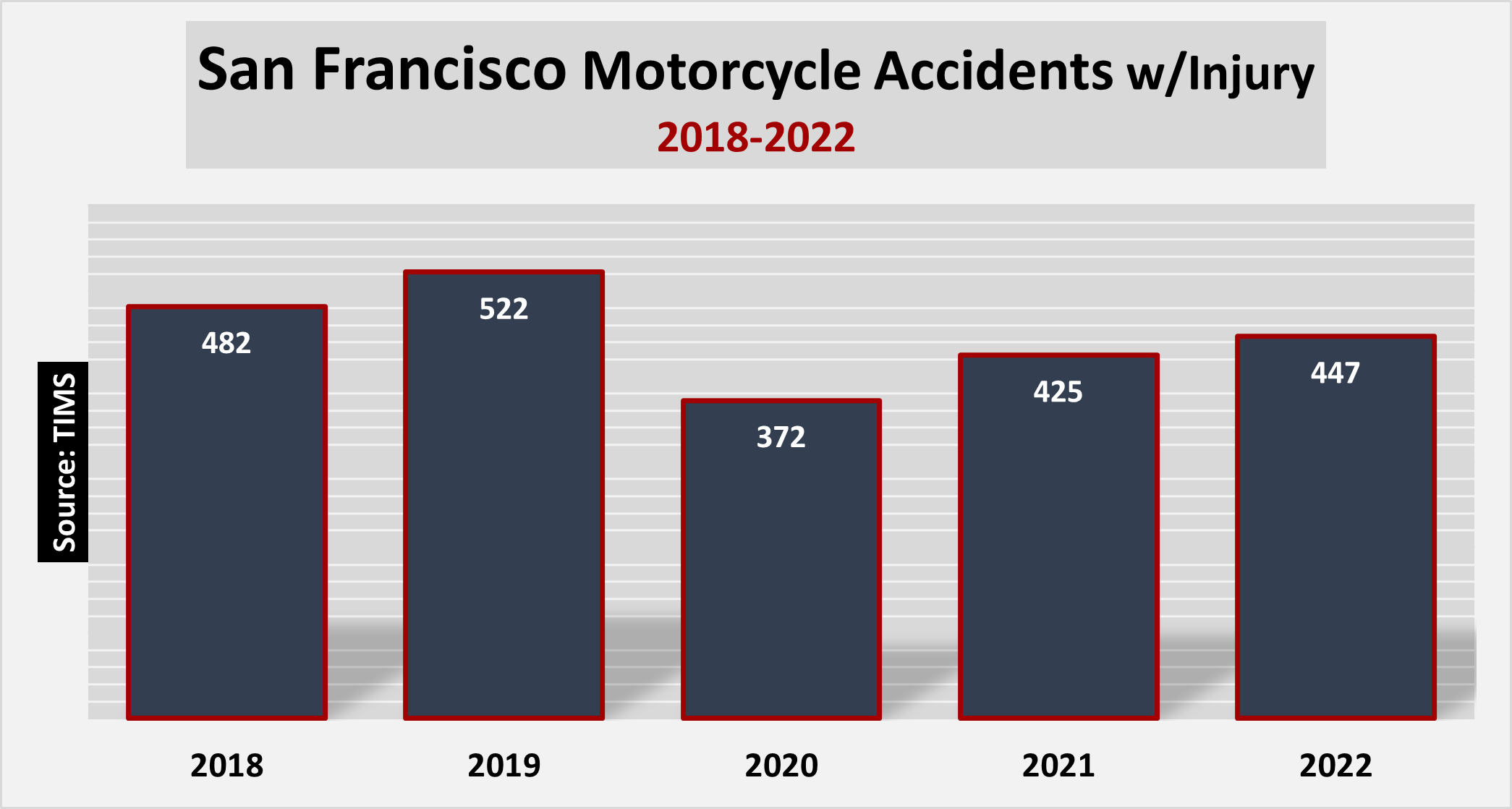 Of course, with the vulnerability of riders, the chances of a crash becoming life-threatening are considerable. San Francisco averaged almost 8 deadly fatal motorcycle accidents a year over the past half-decade. The city saw a peak in 2021 of 13 deaths, but 2022 saw a decline in fatal incidents.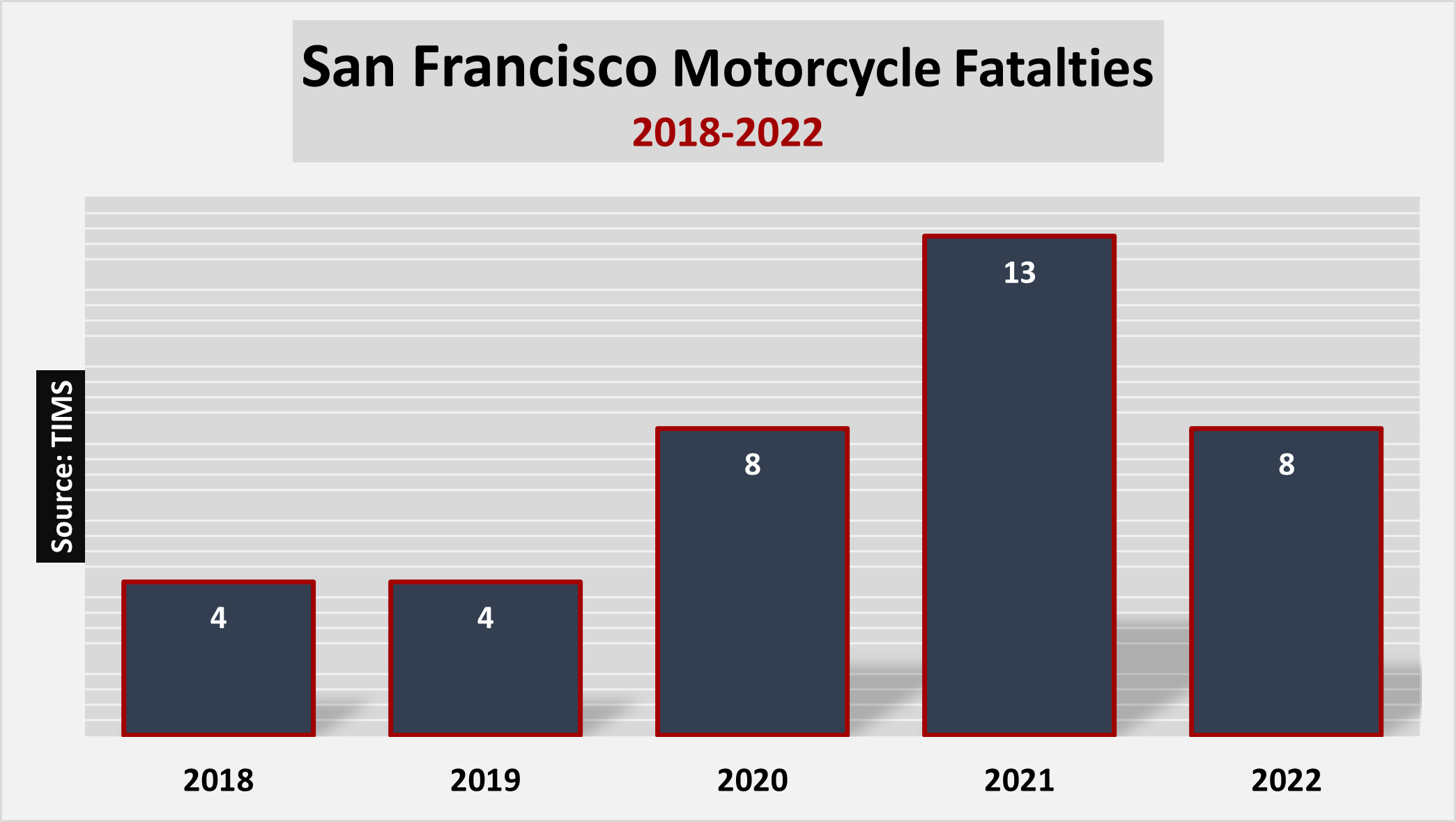 In comparison to other California counties, San Francisco County saw the 15th most fatalities in 2022. Los Angeles was the worst place for fatal accidents. L.A. County saw 124 deadly motorcycle crashes in 2022. Closer to home, Santa Clara County reported 13 fatal motorcycle accidents. Alameda County registered 15 fatal accidents.
Hit-And-Run Motorcycle Accident Statistics in San Francisco
Because drivers are often completely surprised when they strike a motorcyclist (because they weren't paying enough attention), hit-and-run accidents are common. Drivers can make a rash decision to race away from the scene of a motorcycle accident and never report it.
This heartless decision can leave a motorcyclist down on the pavement waiting on medical care and perhaps in the path of other, unsuspecting drivers. If the driver escapes identification, the victim and the victim's family may be left to struggle to pay the enormous hospital bills that follow.
Motorcycle accident cases involving a hit-and-run driver have remained steady over the past half-decade in San Francisco. According to TIMS figures, San Francisco Police and the California Highway Patrol documented 48 motorcycle accidents involving a felony hit-and-run charge in 2022.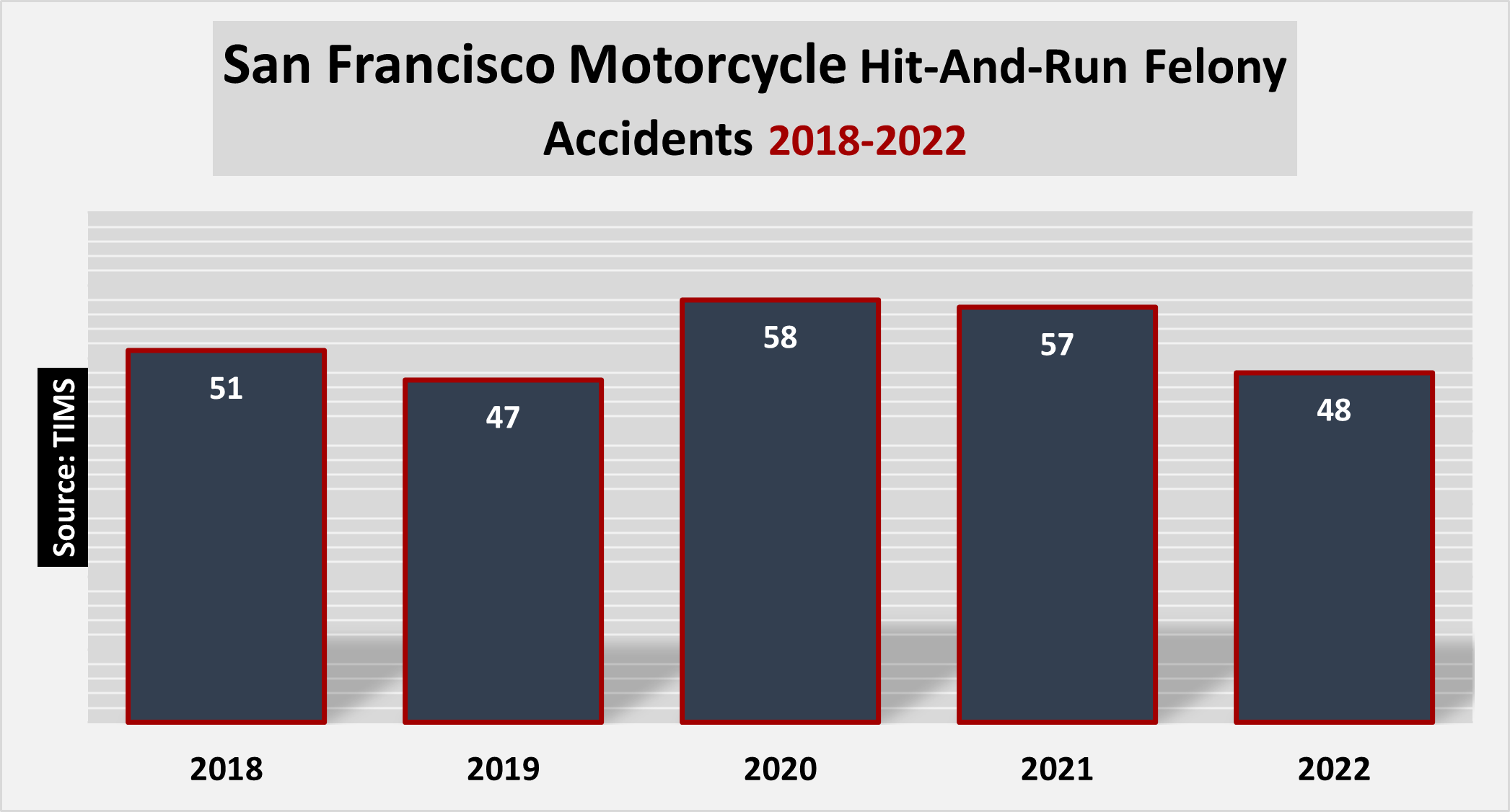 San Francisco Motorcycle Accidents in 2022 by Days of the Week
You might assume that most motorcycle accidents in San Francisco happen on the weekend when more riders have time to pull their bikes out of the garage. Yet, the day that saw the most motorcycle accidents involving injury was the start of the weekend, but still a workday, Friday.
There were 72 serious motorcycle accidents that occurred on Fridays in San Francisco across 2022. Thursday was the second most dangerous day for motorcyclists in the city. Saturday followed closely behind. This surge at the end of the week is likely due to higher traffic levels on weekdays for all sorts of motorists, putting more riders in danger.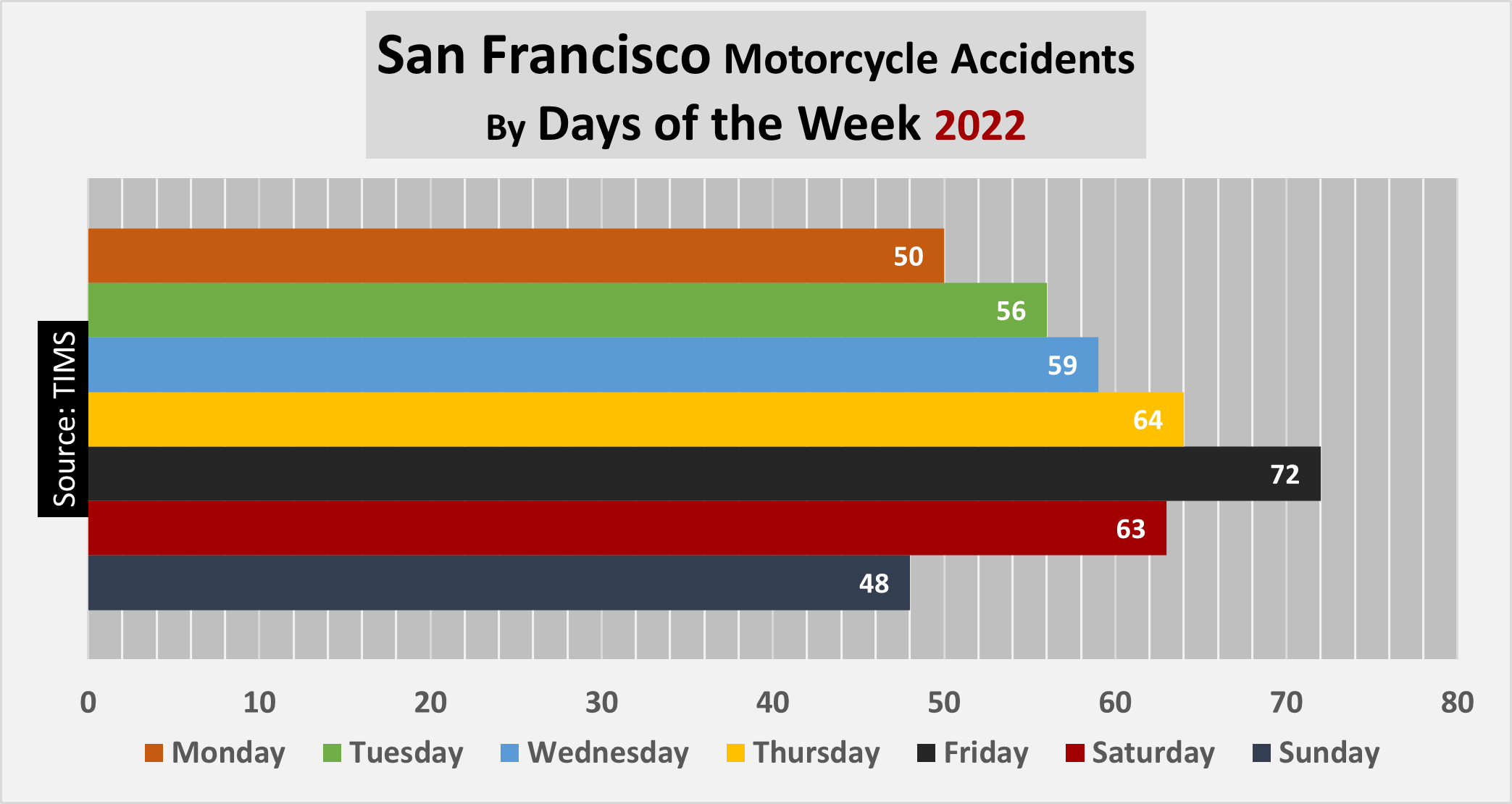 California Motorcycle Fatalities Over the Past Five Years
The California Statewide Integrated Traffic Records System (SWITRS) shows how 2022 fatal motorcycle accident numbers fell off a bit in 2022 in the state, but continued the trend of elevated numbers when compared to pre-pandemic levels.
California recorded 536 tragic motorcycle accident deaths across 2022. That level was still higher than 2018 and 2019 fatality statistics.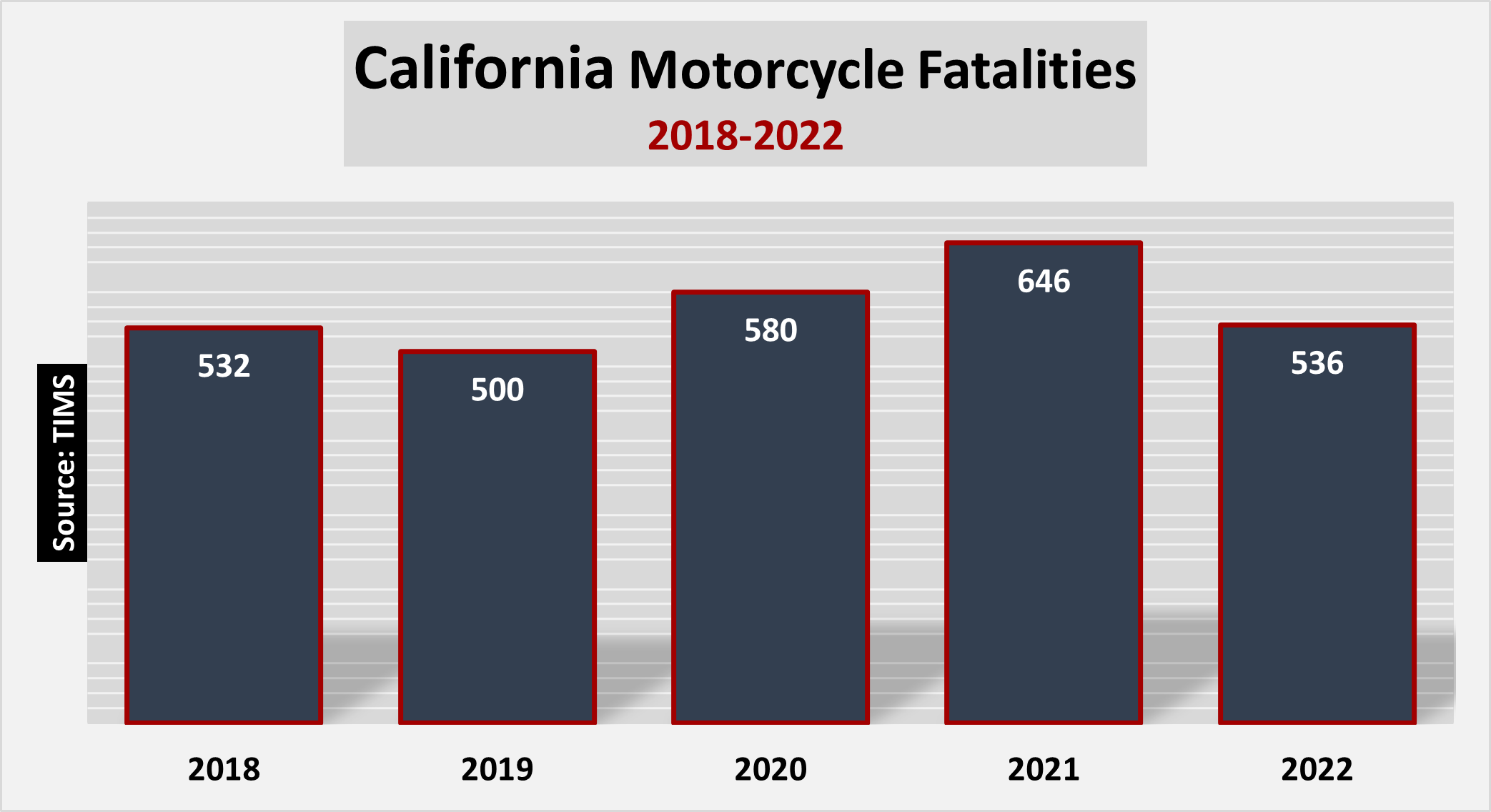 Fatal Motorcycle Accident Statistics in the United States
At the time of this study (May of 2023), The National Highway Traffic Safety Administration (NHTSA) was still compiling data on 2022 motorcycle accidents across the United States. But a look at the latest figures compiled by the National Safety Council (NSC) shows how national numbers have taken a dangerous climb that started during the pandemic.
In 2021, motorcycle fatal accidents claimed over 400 more lives than were taken in 2020. And 2020 had already shown a significant increase over 2019's deadly incidents.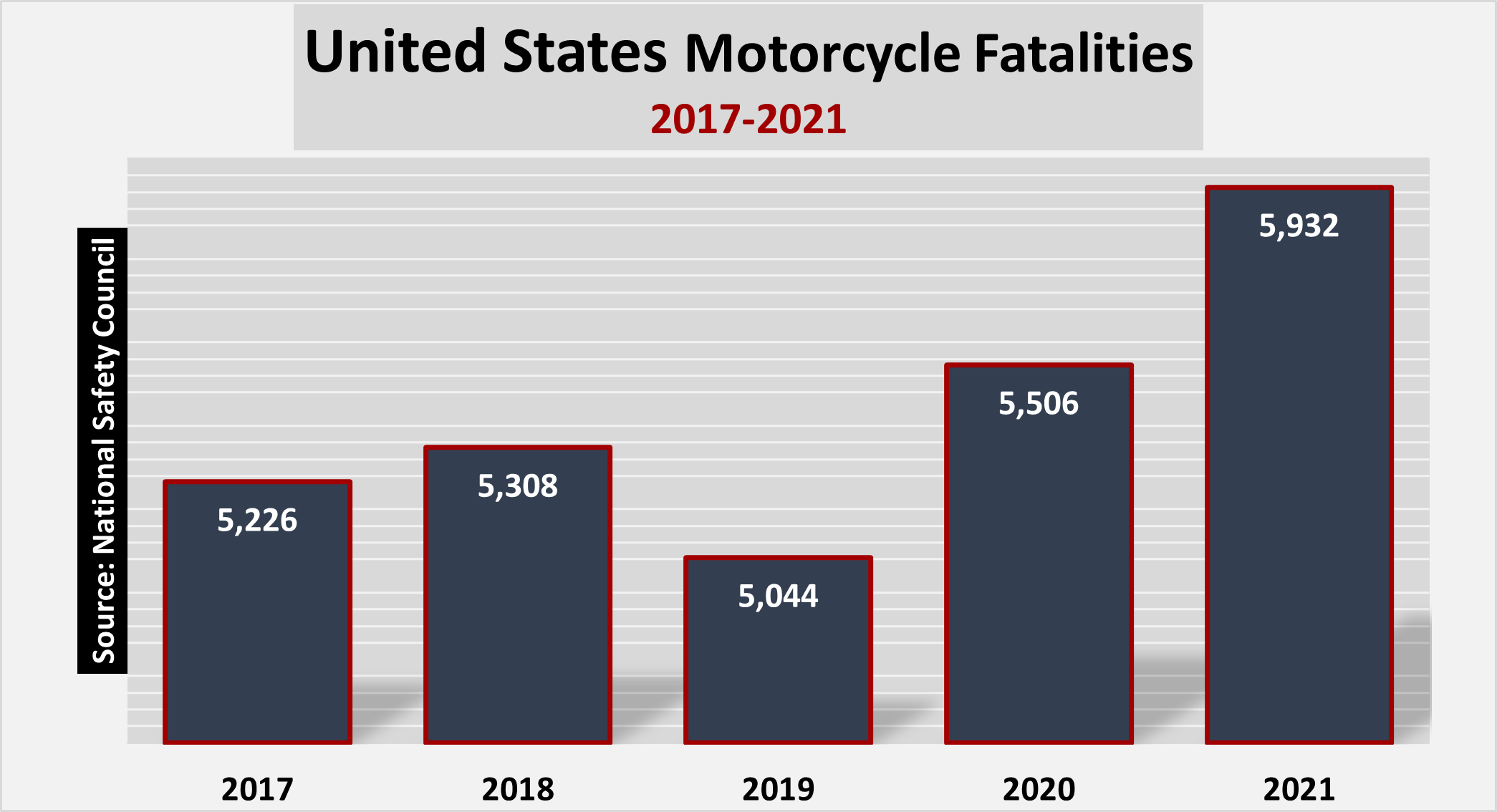 The NSC also found that 58% of U.S. motorcycle accident victims killed in 2021 were wearing helmets at the time. 37% of victims that year didn't have helmets on.
67% of those fatal motorcycle crashes occurred in urban areas. 32% happened in rural areas.
48% of those deadly crashes took place during the day. 50% occurred at night.
A Word for Motorcycle Accident Victims in San Francisco…
The Motorcycle Accident Attorneys at The Law Offices of Matthew J. Quinlan are advocates for safe paths for all San Francisco riders.
If you or a loved one were hurt in a motorcycle accident, you may have questions about the California laws and benefits that apply to your case. Please visit our page on what to do after a motorcycle accident in San Francisco. We help clients secure injury support after hit-and-run accidents and accidents caused by uninsured motorists.