You have reached our page dedicated to the tragic Union Street bus crash,  please visit our main Bus Accident Page.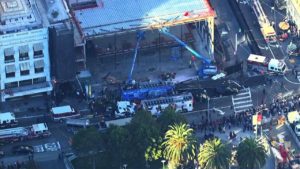 On Friday, November 13, 2015, a double-decker tour bus carrying as many as 30 people crashed into construction scaffolding in San Francisco's Union Square area. The bus was being operated by City Sightseeing of San Francisco. The crash was reported at 3 p.m. near the intersection of Stockton and Post Streets. At least 20 people suffered serious injuries, 5 were in critical condition (life-threatening injuries). According to San Francisco Fire Department, at least 2 people were trapped under the bus, 4 had to be extracted from their cars, and construction workers were reported to be seen falling from the scaffolding.
Shortly before the crash, witnesses reported seeing a run-away bus, speeding and driving erratically for several blocks, striking multiple cars, before crashing into the scaffolding. The bus struck at least one person on the sidewalk and hit a bicyclist.
San Francisco's only trauma center, San Francisco General Hospital, was put on alert and is expecting multiple patients with serious injuries.
UPDATE (11/13): view our San Francisco Bus Accident Lawyer Update page for the latest developments…
UPDATE (11/16): view our San Francisco Bus Accident Attorney page for the latest developments…
 
Those Injured Need A San Francisco Bus Accident Lawyer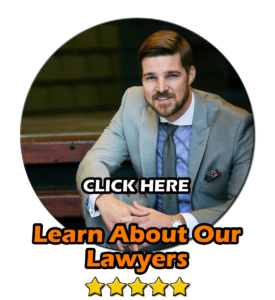 If you were injured in this unexpected and tragic bus accident, we are so sorry that this has happened to you. We know things are difficult for you right now and finding a lawyer is probably not at the top of your list of things to do, but take our advice when we say: you definitely need a personal injury lawyer from the outset, as shortly after the accident is when you and your interests are most vulnerable. We want to help you.  For over a decade, we have been representing people just like you that have been injured in San Francisco accidents like this one. 
We are prepared to represent all individuals involved, including passengers of the bus, pedestrians, bicyclists, construction workers and occupants in the cars that were struck by the bus.  Given the amount of victims involved and the varying interests that are sure to be in play, having an experienced San Francisco bus accident lawyer is critical. You should not give statements to anyone prior to speaking with us. We are experienced with large-scale accidents like today's crash and are experts in dealing with the complicated aftermath of these situations. You may be under the impression that this accident had a straight-forward cause and/or that you will be treated fairly by the insurance companies involved, but neither are correct – DON'T compromise your legal and financial interests by trying to be helpful and cooperative. Now is the time when everyone involved is looking out for themselves – you need to do the same!

While the cause is still under investigation, we wouldn't be surprised if the at-fault party is determined to be the tour bus company, the maintenance company for the bus, manufacturers of any part that failed on the bus (accelerator?, brakes?), or any combination thereof. To be sure, the insurers of these various companies will be looking to point the finger and limit their potential financial exposure from injured victims (you). Additionally, due to the number of personal injury plaintiffs involved, the insurance policy limits of the at-fault party may not cover the damages suffered by all the injured victims. That means you need an aggressive and experienced San Francisco personal injury lawyer to fight for you for the money you deserve.  We will handle everything so that you can focus on your recovery.  Call us now at (415) 345-4282 for a FREE consultation. We never charge our clients a dime unless we recover money on their behalf.
Call Now or Complete the Form Below
[contact-form-7 id="61″ title="Contact form 1″]