Our accident lawyers have been closely following the November 13th Union Square, tour bus crash that left 20 people injured and we represent injured accident victims.  If you were injured in the event, contact us now for a FREE consultation by calling (415) 345-4282 or submitting an online inquiry. 
Victims of this accident should refer to our San Francisco bus accident lawyer page for further information regarding your legal rights and the need for experienced legal representation.  
We last updated this story on November 16th and would like to provide the most detailed update as of today.  Please read on…
BUS ACCIDENT UPDATE (11/19/15)
The cause of the tour bus accident that crashed in Union Square is suspected to be due to mechanical failure.  According to San Francisco Supervisor Jane Kim, the San Francisco Police Department (SFPD) informed her of this suspected cause, although the investigation is still ongoing.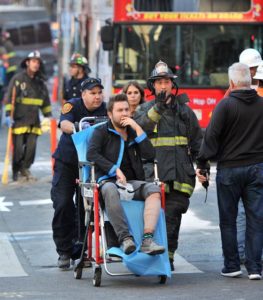 The California Public Utilities Commission, which oversees all bus operations, requires that all buses pass California Highway Patrol (CHP) inspection.  They found that the license plates on the City Sightseeing tour bus involved in the accident did not match the vehicle.  The license plates matched another tour bus owned by the company.  CPUC reported having no evidence that CHP ever inspected the tour bus involved in the accident.  SFPD and CHP are still trying to determine whether this was done in an effort to avoid inspection. 
After learning this information, Supervisor Kim stated that, "this incident was 100 percent preventable if there was good recordkeeping and good maintenance reporting."
Additionally, the orange traffic barriers, which the tour bus driver drove into in an effort to slow down the runaway bus, are being called into question.  Video footage shows these barriers making no impact whatsoever on slowing down the bus.  San Francisco Department of Public Works (SFDPW) stated that the barriers are designed to carry 160 gallons of water and are suppose to be locked into each other to make them secure in order to provide protection for pedestrians.
A week following the accident, KTVU reporter Tara Moriarty returned to the scene of the crash and found that only 8 out of the 18 traffic barriers were filled with water.  She also found that the barriers were only 1/5 full and were not linked together.  She spoke to construction workers off camera who told her that even though it's against the law, they do not link the barriers because it makes them difficult to move.
After this investigation, SFDPW informed Digney York, the company that secured the construction permit where the barriers were found, that they were not in compliance of the law.
Currently, the tour bus driver and a tour guide are among the four accident victims, as reported earlier this week that still remain in the hospital.
In light of this new and developing information, it is probable that multiple defendants will be involved in potential lawsuits arising from the accident.  Making matters more complicated, these defendants will without doubt place blame on each other in order to avoid financial liability.  Our San Francisco personal injury accident attorneys are representing the victims that were injured in this accident and have experience in dealing with complicated cases involving multiple defendants.  If you were injured in the events of last Friday, contact us now for a FREE consultation.