WELCOME: Ashley has been chosen as one of 5 finalists in our $1,000 Don't Text & Drive Scholarship, which is intended to help raise awareness about the dangers of texting and driving amongst college-aged students.  Studies have shown that 18-24 year olds are twice as likely to be involved in a texting and driving accident than any other age group.  The finalist that creates the most social interaction about their essay, wins! (facebook, twitter and Google+) 
Make sure you "like," "share," "retweet," and/or "+1" the social media post that led you here! (Rules)
Ashley's Essay:

Hello, my name is Ashley Sams and I am a sophomore at the University of Wyoming. I am pursuing a Bachelor degree in Political Science and a minor in Entrepreneurship. I have been an advocate to the law against texting and driving for many years but unfortunately, even I have committed this deed. I was driving home from work one afternoon, which takes about forty-five minutes, and I reached down to send a text to my little sister.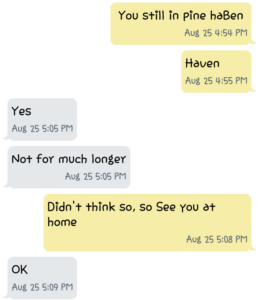 She was in golf practice and I wanted to join but wasn't sure if they were done or not. When I think about it now, there was no importance in this conversation. I just wanted to know if I could join a great group of people to do what I love most, golf. I felt the urge to text her because I had a rough day at work and wanted to be around people who appreciated me. Also the golf course she was at is on the way home so I did not want to make it home to figure out that they were still at the golf course when I could have just gone there. However, it turns out that practice was over and the text was just a waste of time.
I don't text and drive frequently, however, I do sometimes listen to music on my phone so I am sometimes checking my phone. I want to listen to certain songs so I will reach down and change the song if I need to. I do find it difficult to stop texting and driving because in this day and age, it's all about fast responses and knowing right now. When you live in Wyoming, you have a lot of time on trips to text because there is no traffic, it takes more than fifteen times to get anywhere and there are rarely any cops patrolling or other vehicles on the road. We tend to try and inform our loved ones that we are coming home or where we are so they are not worried and sometimes texting them is the easiest and most dangerous way to do that. For example, a college student like myself is going home for the weekend. My parents always want to know where I am and sometimes I can only reach my mom by text. They tend to text me and get worried if I don't answer within a couple of minutes. Another reason why I text and drive is because the drive is boring and I am trying to keep myself from falling asleep. Driving for five hours in the Great Plains, there isn't much to look at that you haven't seen before. As I have mentioned before, driving in Wyoming is much different than driving in Denver, CO because we don't have to worry too much about traffic or reckless drivers. When driving in Wyoming (especially where I am from) it's rare that you even see another car whether in the other lane or your own. I am willing to stop texting while driving especially when there is someone else in the car with me or if the weather is bad.
To sum it up, I do text and drive and I kick myself every day because of it. People die almost every day because they aren't paying attention and I don't want to be a part of this statistic. I do understand the urgency of wanting to text your parents but friends can wait and will understand. Driving the car safely is more important than some random text because you can save your life and others.
~Ashley Sams
NOTE: while some minor formatting was done while posting, this essay was not edited by the Law Offices of Matthew J. Quinlan.