It has recently come to our attention that Nectars Collective, a medicinal marijuana supplier, has been using defective glass jars in packaging their products. These defective jars are sold under the "710 Royal Jelly" product line in dispensaries across California. A common problem with these defective jars occurs when trying to open them, as they require an unreasonable amount of force to open the lid. This force causes the glass to break, often at the bottom of the jar where a person's thumb is being used to create leverage.  People that have been injured by the break jars have described very little pressure being used when the break occurs.  Common injuries include deep cuts in the thumb or finger(s), which often require stitches.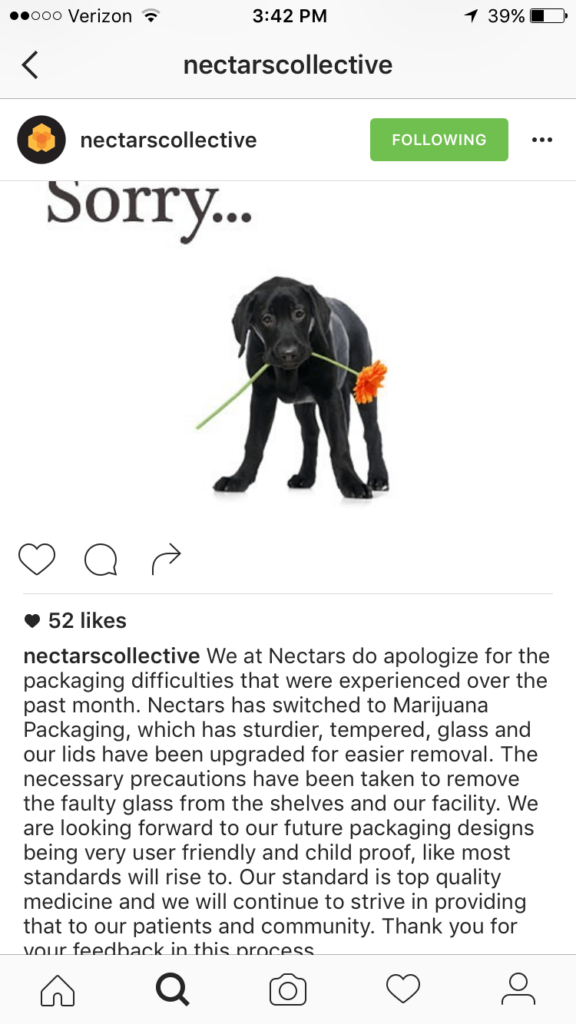 On August 25, 2016 Nectars Collective issued an apology to its 9,145 followers on Instagram (pictured below) and announced that they were moving Royal Jelly to a different form of packaging that "has sturdier, tempered, glass" in addition to "lids that have been upgraded for easier removal."  They go on assure customers that "necessary precautions have been taken to remove the faulty glass from the shelves and our facility."  We appreciate the apology the swift response to get the dangerous jars out of the stream of commerce.  The problem is what they describe as "packaging difficulties that were experienced over the last month" can be translated as "severe injuries being caused by the glass jars breaking in customer's hands while trying to open them." 
Companies that place dangerous goods into the marketplace are responsible for the damage that they cause; this is a legal concept called product liability.  While we are pleased that no more dangerous Nectars Royal Jelly jars will be sold (it sounds like), many Nectars customers have had their hands, thumbs and fingers severely cut by dangerous jars that should have been properly tested and evaluated before sending them out into the world.  
To be sure, Nectars has insurance that will cover them for claims brought by customers that have been injured and we suspect they are waiting for flood gates to open.  Our San Francisco personal injury lawyers are all ready representing injured customers just like you and will be seeking fair compensation for what our clients are now going through.
If you or a friend have suffered injuries as a result of a Nectars Collective Jar breaking, you may be entitled to: medical bills, wage loss, and pain and suffering.  We invite you to you to CONTACT US for a FREE consultation at (415) 345-4282 to discuss how we can help you recover the money you are entitled to as a victim of these dangerous jars.  We will ensure that your interest are protected and that you receive the full value of your case.  Cases involving defective products are not the type of cases that consumers can easily handle on their own, as they are complex, time-consuming, and expensive.  We use our own experts to investigate the cause of the defect and then go after either the manufacturer, store that sold the defective product, or both, as appropriate.  If it's not to late, you should keep the jar, copy of your receipt of purchase and avoid giving any statements to anyone other than your doctors.