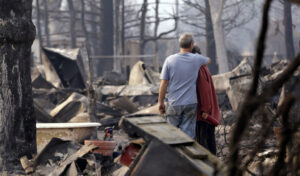 If the Valley Fire or Butte Fire has destroyed your home and possessions, the first thing you will want to do is turn to your homeowners insurance to cover the loss. That said, you should know handling and negotiating an insurance claim can be a time-consuming, intimidating and risk-filled process for even the most savvy homeowner. Insurance companies do not handle fire claims in a uniform, systematic fashion, with homeowners receiving a predictable amount on their claim. Adjusting (resolving) a fire claim is an art, not a science. Each fire claim is viewed as an independent negotiation between the homeowner and the insurance adjuster assigned to your claim and the financial settlements of very similar claims can vary wildly. These insurance adjusters are hired and paid by the insurance company to work on your claim. They are the insurance company's representative, not yours. Their goal is to resolve the claim on behalf of their employer (the insurance company) for an amount that is as favorable as possible for their employer (the insurance company).
Further tilting the scale in favor of the insurance company, the insurance agent will hire handpicked contractors and evaluators to estimate the costs to rebuild your home and replace your belongings. They measure your loss with the insurance company's financial interests in mind, not yours. These contractors and evaluators consistently turn in low-ball estimates in an effort to please the insurance company, which results on additional business for them. When homeowners are aware of the lopsided dynamic the insurance company has created to take advantage of fire claimants, they can ensure that they receive a full and fair settlement on their fire claim by hiring a Fire Claims Lawyer to level the playing field. Unfortunately, many homeowners are unaware of the need/availability of help and rely completely on the adjuster and the insurance company when it comes to determining the amount they should receive on their claim instead of hiring an experienced attorney to work-up and resolve their claim for a fair amount.

Because of the likelihood of receiving less than they are entitled to, many homeowners who are aware of the availability and need for help handling their claim opt to hire a professional to work on their behalf, thus ensuring they have an experienced and partial representative in the negotiation like the insurance company does. These professionals hired by the homeowner come in two forms: (1) Public Adjusters, and (2) Fire Insurance Claim Lawyers, such as The Law Offices of Matthew J. Quinlan (us).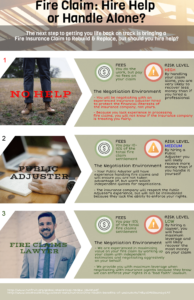 (1) Public Adjusters: Public Adjusters are typically insurance industry personnel, often retired that are hired by the homeowner to interpret their insurance policy, assess and evaluate the losses and negotiate with the insurance company to settle the fire insurance claim. Public adjusters usually have spent their careers working for the insurance companies that they are now hired to oppose. Public Adjusters are typically paid for their services by receiving 10-15% of the total fire claim settlement.
(2) Fire Insurance Claim Lawyers: As part of our service to our clients, we provide all the services a Public Adjuster does, but also provide many additional benefits to our clients.  Unlike most Public Adjusters, we hire our own licensed contractors and evaluators to provide us with true estimates of your losses and costs to rebuild and replace.  These estimates are then used in negotiations with the insurance agent.  Additionally, you may not be aware of it, but your insurance company owes you a duty to treat you and your fire claim in "good faith."  Failure to do so, exposes the insurance company to a "bad faith" lawsuit, which if successful, entitles homeowners to monetary damages beyond the full value of their fire claim.  By hiring a licensed, California attorney to handle the fire claim negotiations on your behalf, insurance agents are aware that any perceived acts of "bad faith" can be acted on quickly and decisively.  For this reason, we have an incredible amount of leverage and credibility when negotiating on your behalf and consistently receive settlements on behalf of our clients that exceed what Public Adjusters are able to obtain. We are paid for our services by receiving 15% of the total fire settlement claim.  Note: should the need for a "Bad Faith" lawsuit be required, we are paid by receiving 40% of the settlement, award or verdict on the "Bad Faith" claim (the property loss claim remains 15%).
(3) In rare cases or instances involving only minor damage claims, it may make sense to handle the claim yourself. Should you fall into this category, follow these tips for handling your fire claim.
For questions or more information on how to deal with filing a fire damage claim, call us now for a FREE CONSULTATION at (415) 345-4282.