San Francisco provides a fantastic backdrop for any bicycle ride. Cyclists take to San Francisco streets to get a challenging workout, to travel to work or school, or for an outing with the family.
Unfortunately, San Francisco traffic levels and driver carelessness combine to put many riders in jeopardy each day. Even on routes like Valencia Street, with dedicated bike lanes, motorists still veer into lanes and pay too little attention when making turns to guarantee a cyclist's safety. Delivery vans and rideshare vehicles also park on those lanes, creating unsafe obstacles for unprotected riders.
To give San Francisco motorists a visual reminder of the hazards they can pose to cyclists on any size street, The Law Offices of Matthew J. Quinlan took the lead on a 2022 bicycle accident study. It's a look at bicycle crash statistics over the past five years. It's a chance to examine where San Francisco currently stands on bicycle accident safety and the goals we need to set for the rest of 2022 and beyond.
San Francisco Bike Accident Statistics for 2022
San Francisco's Department of Public Health created an online database known as TransBASE to track cycling accidents each year across the city. The Golden Gate City saw steady and regrettable bicycle accident trends involving motor vehicles from 2017 to 2019. Each year, the accident numbers neared 500 incidents.
Then in 2020, when the pandemic kept more motorists at home, collision rates fell. That positive direction seems to have continued into 2021. (2021 numbers remain preliminary and could change.)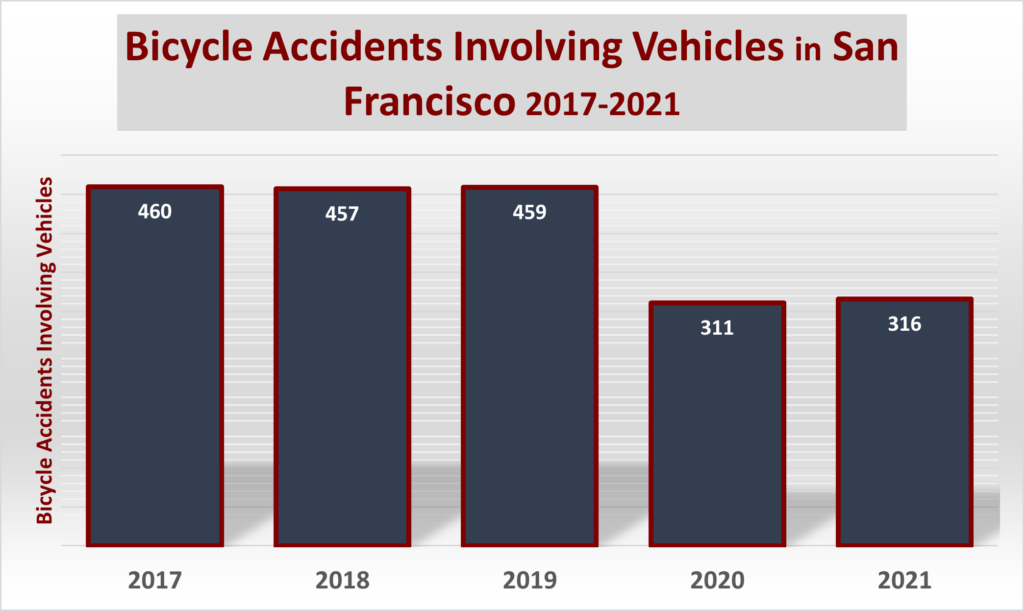 According to the City of San Francisco's website, as of the end of April 2022, San Francisco had not reported any bicycle accident fatalities for the year. That does not mean the Bay Area has escaped the effects of unsafe travel conditions for riders in recent months.
CBS Bay Area TV reported the tragic news of a 7-year-boy struck on a bicycle and killed by a motorist in Fremont on May 20, 2022. San Jose had suffered at least four fatal bicycle accidents at around the halfway point of 2022. In the most recent incident, a man lost his life after being struck by a car on May 1, 2022.
Fatal bicycle accident cases on San Francisco streets have remained steady over the past five years according to TransBase data.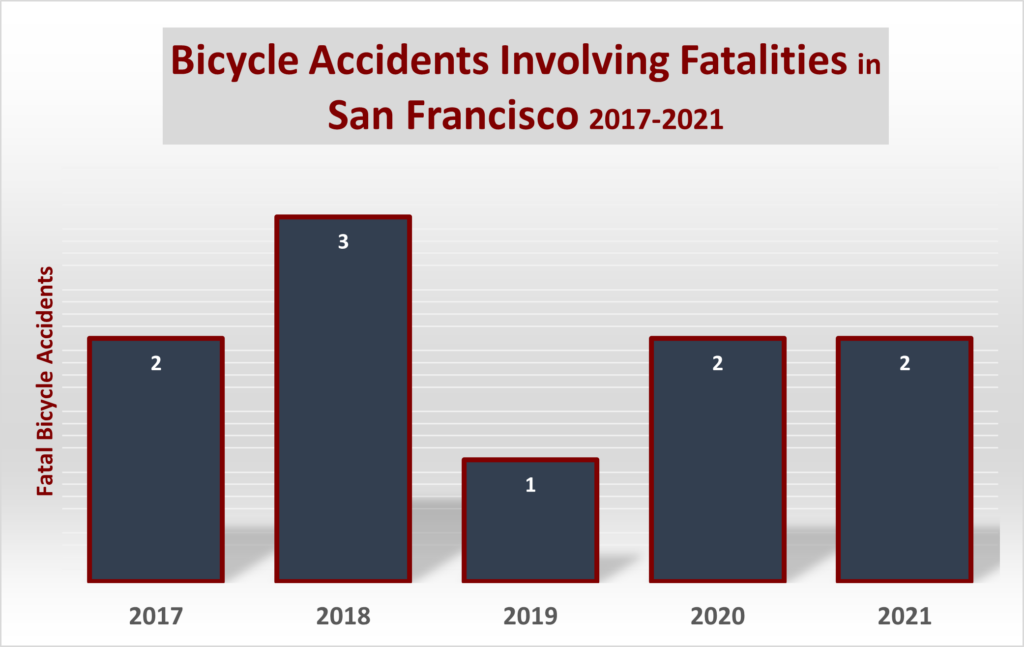 Across California as a whole, cycling collision incidents remained high when compared with the rest of the nation. Cliq named six California cities in their top 15 list of the most dangerous cities for biking in the U.S.
The rankings look at bicycle accidents in each city compared with their populations. By this method, Stockton was the most hazardous city for riders in America. Sacramento ranked 4th for unsafe biking conditions. Modesto came in 6th. Santa Ana, San Bernadino, and Bakersfield were also mentioned.
In a bit of brighter news, California's Transportation Injury Mapping System (TIMS) recorded falling numbers for those hurt or killed while riding in the state over the past half-decade.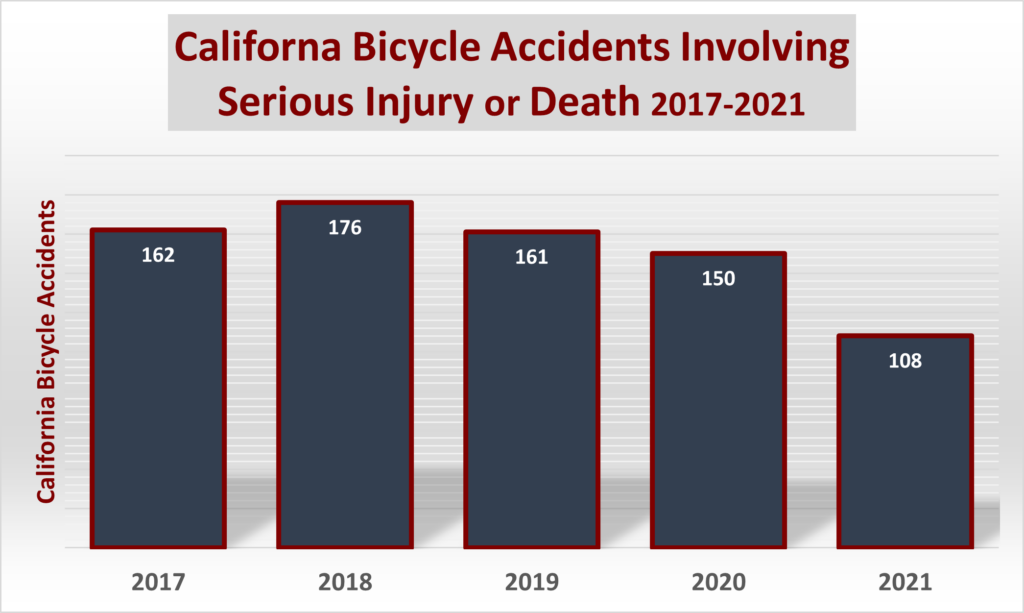 By comparison, TIMS data shows that Los Angeles recorded an astounding 1,780 bicycle crashes involving injury or a fatality in 2021. In those accidents, 23 people lost their lives.
San Francisco Bicycle Accidents by Days and Times
The discouraging TransBASE data on bicycle accidents in the Bay Area also reveals some of the most dangerous days of the week for a bike ride. In 2021, Thursday and Friday registered as days in which the most bicycle collisions occurred on San Francisco streets.
The two days tied and it was calculated that in total, 136 bicycle crashes were reported on Thursdays and Fridays in 2021. That accounted for about a third of all bike accidents in San Francisco. The increased accident totals were likely due to additional cyclists choosing to take to the roads on these days, along with elevated vehicle traffic.

The numbers more emphatically demonstrate the worst time of day for a bike ride in the City by the Bay. 35% of the bicycle crashes that occurred in San Francisco in 2021 took place between 2 p.m. and 6 p.m. Obviously, the afternoon rush hours contribute to this unfortunate statistic.
6 p.m. to 10 p.m. and 10 a.m. to 2 p.m. also showed up as hazardous periods. Added together, both time slots accounted for around 40% of all bicycle accidents in San Francisco.
San Francisco's Vision Zero Goals for 2022
San Francisco continues to work on its Vision Zero SF goal to reduce traffic injuries and deaths. This safety policy has helped cyclists enjoy some improved traveling conditions across the city.
A reduction in speed limits in Tenderloin is one such upgrade. Recent 2022 victories for cyclists include when John F. Kennedy Drive in Golden Gate Park was approved to become a permanent car-free path.
Additional bike paths and some protected bike lanes are under consideration by the city. It's hoped that these projects can help further reduce the risks San Francisco cyclists face.
The biggest hope for change will come with increased awareness from the careless drivers who overlook cyclists on their drives each day. Even the smallest amount of extra focus and caution from behind the wheel can make the biggest difference in citywide bicycling safety.
A Word for Bicycle Accident Victims in San Francisco…
The Bike Accident Attorneys at The Law Offices of Matthew J. Quinlan are advocates for safe paths for all San Francisco cyclists.
If you or a loved one were hurt in a bicycle accident, you may have questions about the California laws and benefits that apply to your case. Please visit our page on what to do after a bicycle accident in San Francisco.