On Friday, August 12, 2016, Cui Ying Zhou (Emma), a 36-year-old San Francisco mother of two was watching her two daughters play in Washington Square Park in San Francisco when a 100-pound tree limb fell on her head from about 50 feet above. Paramedics arrived on the scene at 3:15 pm and transported her to Zuckerburg San Francisco General Hospital. She was listed as being in critical condition having suffered a head injury and spinal cord injury.  After substantial surgery, doctors fear that she may never walk again.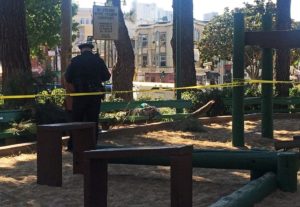 According to a San Francisco Recreation & Parks Department spokesman, the tree that the limb fell from is a Canary Island pine, which was fully examined in 2008 with another brief check up in 2010 (whatever that means) and was found to be in good condition.  Dennis Kern, director of operations at the Parks Department, stated that the six-year (8?) interval between the arborist examinations were "in line" with urban forestry standards.  Additionally, two years ago, a private tree care company, pruned the trees around the area where the woman was injured after a private interest group, Friends of Washington Square charitably arranged and paid to have the work done.  It is unclear if the tree in question was pruned by the private company and whether the San Francisco Rec & Park Dept. supervised that work or evaluated the work after completion. 
Mayor Ed Lee said in a statement that officials with the San Francisco Parks Department and other agencies will be investigating the incident, but we should not expect to learn the results of that investigation if the results inculpate CCSF.  The Department of Public Works sent an arborist to the park to investigate why the limb fell, but again, no word on the findings.
City and County of San Francisco's Liability for Woman's Injuries
Emma Zhou and her family would have a viable claim against The City and County of San Francisco ("CCSF") if it is found that CCSF violated CA Gov't Code 835.  In short, it must be shown that the tree was in a dangerous condition when it fell and that CCSF knew or should have known about the dangerous condition and therefore acted unreasonably.  Of course, CCSF is going to claim that they are not at fault because they did not know about it and "should not have known about it" because they did everything right (inspections, trimmings, etc.).
Although more information is needed, it is our position that Emma and her family have a viable claim against CCSF.  The City's dangerous tree problem is widely known.  However, the truth about why this particular accident happened will not be revealed or admitted to without litigation, where we suspect the documents and testimony will likely show that CCSF, and potentially the private company that pruned trees in the area in 2013, were negligent in the maintenance of these trees.  Until then, don't expect CCSF and City officials to say or do anything other than to quell the public concern and minimize bad PR.  
Word is, The City has told the family that The City will cover all of Emma's medical expenses.  That seems like a nice (and the right) thing to do. However, should The City make good on that promise, the payment will come with a settlement release that ensures the family will never be able to make a claim for all of the other damages they are suffering; a figure that dwarfs the medical bills.  The family should not accept this offer, as the primary purpose from The City's perspective is to avoid paying the family what they are entitled to, while they simultaneously create good PR for themselves.  For shame. Think about it, The City would not make this offer to pay the medical expenses unless they felt exposed to liability.  Dozens of terrible accidents happen on San Francisco public property every week, yet The City isn't offering to pay the medical bills associated with those tragedies.  Here's to hoping the family won't be taken advantage of by The City and will retain an attorney to protect their future financial interests – the family has a lot to lose.
*Matt Quinlan was recently interviewed by The San Francisco Chronicle about the potential of Emma and her family suing The City.
People Injured by Falling Limbs Need Legal Representation
Cases involving falling limbs or trees often result in very serious injuries.  These cases are also very contentious and any person trying to sue a municipality or property owner for injuries caused by dangerous trees on their propety are facing an uphill battle and will need a San Francisco personal injury lawyer experienced with these types of cases.  In addition to being rigorously defended as "a freak accident" for which they are not responsible, these cases can be very costly to pursue given the need to hire experts to establish liability.  If you or a loved one has been injured by a falling tree/limb, CONTACT US for a FREE consultation at (415) 345-4282 to discuss your case, your rights and how you can recover the money you are entitled to for your injuries.  We have handled many tree limb injury cases and we can help!
Reference: CA Government Code 835-835.4
A public entity IS liable for injury caused by a dangerous condition of its property if the plaintiff establishes that:
(1) the property was in a dangerous condition at the time of the injury, and
(2) the injury was proximately cause by the dangerous condition, and
(3) the dangerous condition created a reasonably foreesable risk of the kind of injury that was incurred,
AND
(1) a negligent or wrongful act or omission of an employee of the public entity within the scope of his employment created the dangerous condition; 
OR
(2) the public entity had actual or constructive notice of the dangerous condition a sufficient time prior to the injury to have taken measures to protect against it.
Actual Notice: if the City had actual knowledge of the existence of the dangerous condition and knew or should have known of its dangerous character
Constructive Notice: if the condition had existed for such a period of time and was obvious in nature that the public entity, in the exercise of due care, should have discovered the condition and it's dangerous character.
-Whether the existence of the condition would have been discovered by an inspection system that was reasonably adequate (balancing test: practicability and cost of inspection weighed against likelihood and magnitude of the potential danger to which failure to inspect would rise).
-Whether public entity maintained and operated such an inspection system with due care and did not discover the condition.
A public entity is NOT liable if it establishes:
The act or omission that created the dangerous condition was reasonable (determined by: weighing probability and gravity of potential injury to persons and property foreseeably exposed to the risk of injury against the practicability and cost of taking alternative action that would not create the risk of injury),
OR
The action it took to protect against the risk of injury created by the condition or its failure to take such action was reasonable (determined by: taking into consideration the time and opportunity it had to take action weighed by the probability and gravity of potential injury to persons foreseeably exposed to the risk of injury against the practicability and cost of protecting against the risk of such injury.)