Finding the best San Francisco personal injury lawyer after you have been injured in an unexpected accident can be intimidating and daunting. Furthermore, trying to go-it alone typically isn't a wise decision (MJQLAW????). We understand what you're going through and that's why we go out of our way to try to make things as easy and straight-forward as possible for you to learn about about the process, hire us and ultimately receive the fair settlement you are entitled to as quickly as possible.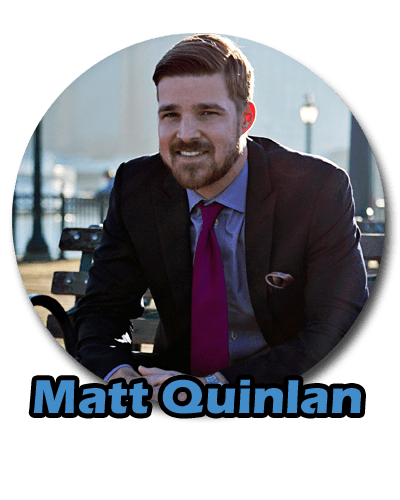 The personal injury lawyer in the photo is Matt Quinlan. He is the founder of our law firm and is the lead personal injury attorney on each case we handle. Since 2005 he has been helping Bay Area people just like you that have suffered a serious injury in an unexpected accident recover the medical bills, lost wages and pain and suffering money they are entitled to.
So, if you are looking for the best San Francisco personal injury lawyer, rest assured that you are in the right place. We have recovered millions on behalf of our clients and have a strong reputation for representing injured people just like you! Hey… There is a reason why our past clients rave about us, we win awards, people are regularly referred to our office and Google consistently ranks us at the top of its search engine results when people are searching for an accident attorney with popular search terms like "motorcycle accident lawyer San Francisco," "bicycle accident lawyer San Francisco," "pedestrian accident lawyer San Francisco," "dog bite lawyer San Francisco," "personal injury lawyer San Francisco," and more!

WHY YOU'RE HERE: Unfortunately, we must assume that you've found our website because you have been injured in an accident and are looking around the internet for the best San Francisco personal injury lawyer to help you recover the money you're entitled to as the victim of an accident. A cash settlement won't fix everything—we get that—but dealing with months of pain and suffering, thousands of dollars in lost wages and stacks of medical bills for nothing doesn't seem very fair either. The good news is… we are the caring, successful and reputable personal injury lawyers you are looking for and we can help you! In fact, we have been helping people just like you for more than a decade and our past clients will tell you that we are the best—just check out our Yelp Reviews! The bad news is… well, obviously you're hurt—maybe even angry—and have had your life turned upside down from an unexpected accident. Where do you go from here? These are uncharted waters. You can't work and your life isn't the same anymore. You're not into suing people and you understand that accidents happen, but that sentiment only seems reasonable until you can't get out of bed, you have doctors sending you big medical bills and you are worried about paying your rent or mortgage in the months ahead. Don't worry, we understand.

WHAT KIND OF PERSONAL INJURY LAWYER YOU NEED: You need a personal injury attorney that understands what you're going through and will fight aggressively for the money that you are entitled to. You need an accident lawyer that cares about you and your health. You need a lawyer that is experienced and has a reputation in the industry, but isn't past their prime. You need a lawyer that is charismatic in front of a jury and when dealing with people who work for the insurance company. You need your lawyer to look and act a certain way—after all, this person literally represents you. You need a lawyer that you can reach when you call, email or text. You need your lawyer to keep you in the loop along the way and tell you why things are happening and what to expect around the corner. You need a lawyer that will personally handle your case—not assign your case to a fresh-out-of law-school attorney or a legal secretary because they are too busy trying to sign up as many clients as possible (read: make as much money as possible). Don't worry, we understand.

WHEN YOU HIRE US: You are hiring a lawyer that is experienced, aggressive, well-spoken, kind, responsive—and ultimately, effective. Matt has won numerous awards for his skill and dedication. Additionally, our law firm has earned an A+ rating with the BETTER BUSINESS BUREAU thanks to our ethics and reputation. When you hire us, you will be working directly with Matt Quinlan and will never be handed off to anyone else, as is the case at many San Francisco personal injury law firms. Although we do employ a team approach with our cases—we've found it's better that way—Matt is always the leader of the team and your primary contact. Our past clients regularly tell us that once they hired us to represent them, a huge weight was lifted off their shoulders, which allowed them to focus on their recovery while we took care of everything thing else, including getting them a great settlement. We'd be honored to help you too! Give us a call us at (415) 345-4282 or send us an Online Inquiry so we can talk about your accident, what you're going through and how we can help.