WELCOME: Ryan has been chosen as one of 5 finalists in our $1,000 Don't Text & Drive Scholarship, which is intended to help raise awareness about the dangers of texting and driving amongst college-aged students.  Studies have shown that 18-24 year olds are twice as likely to be involved in a texting and driving accident than any other age group.  The finalist that creates the most social interaction about their essay, wins! (facebook, twitter and Google+) 
Make sure you "like," "share," "retweet," and/or "+1" the social media post that led you here! (Rules)
Ryan's Essay:
Before I begin, I would like to stress the dangers of texting and driving from personal experience. The lack of concentration on the road for seconds at a time can make the difference and take an innocent bystander's life. I was in the passenger seat with a friend who was texting and driving. At the time, there was little awareness of the dangers, so we carried on like normal high school kids. He said he was "good" at it, as if it was a skill to be mastered.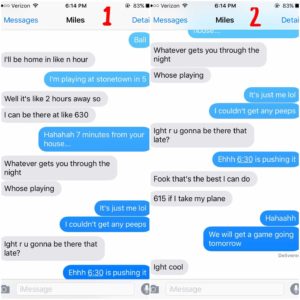 It is not. He looked down at his phone for about two seconds, traveling around town at 35 miles per hour. That two seconds, however, was long enough for a dog to run into the street chasing a tennis ball. Luckily, I kept my eyes on the road, compensating for his lack of awareness. I yelled "BRAKE", and we skid to a stop about five feet away from the dog. My friends in the backseat slammed into the headrests, as the driver and I looked in disbelief. However, given that "Don't Text & Drive" was a new movement at the time, we shrugged it off and drove away. I couldn't help but wonder though, how could that happen? He only looked down for two seconds, where did that dog come from? Two seconds is all it takes to cause a tragedy, whether it is a dog chasing a tennis ball or a child crossing the street. I wasn't concerned with who he was texting or what he was saying, but I am positive it could have waited. 
My conversation with miles was insignificant. We were discussing plans to play basketball prior to my departure of the house, but he wasn't being decisive. I wanted to play with him, so I kept responding even though I was behind the wheel. I live three minutes away from the courts we play at. Why did I spend the time to respond and risk the lives of members of my community to make plans? To be honest, I didn't think it was a big deal. I figured I would be at the court in a few minutes and nothing would happen, neglecting my past experiences and my intuition. I wouldn't say I text and drive frequently, but anything more than never is too much. I find it difficult to stop texting and driving due to the need to keep in contact with others. The addiction to social media and communication with people has become a major issue in today's day. If I receive a text from someone on my drive to class, am I going to pull the side of the street to answer it and risk being late? Logistically, no. I believe this is a common thought process among students aged twenty-four or younger. However, can you wait to read the text and respond once you are parked and exited the vehicle? Absolutely. This is something that should be taught in Driver's Education classes in high schools across the country. Once high schoolers are exposed to the dangers and consequences of not just texting and driving, but distracted driving in general, they will be less likely to do so. With increases in education, we will see the horrific numbers of daily fatalities and injuries decrease.
I have made a conscious effort in teaching myself to not answer texts while driving. I tell myself, "it can wait". Whenever I am in the same situation as described in the first paragraph, I tell my friend the same thing, that it can wait. Hopefully, as national awareness is gained, texting and driving can be brought to new lows, keeping the roads safe for everyone. I am grateful and delighted to see that the Law Offices of Matthew J. Quinlan feel strongly about this issue and are willing to attach a monetary value to raise cognizance across the country. Thank you very much.
~Ryan Johnson
NOTE: while some minor formatting was done while posting, this essay was not edited by the Law Offices of Matthew J. Quinlan.