If you're like us, you love dogs! San Francisco loves dogs too and it consistently ranks as the most dog-friendly city in the U.S.  If you own a dog you know the joy they can bring to your life, but if you are like most dog owners you may not have considered the financial liability that your dog can become if they behave badly. Consider this your wake up call! Read on! Protect yourself!
"Dogs are not our whole life, but they make our lives whole."
― Roger A. Caras, writer and preservationist
It should come as no surprise to learn that San Francisco loves dogs. After all, Golden Gate Park offers 1,000 acres of green space, nearly half of all San Francisco rental units are pet friendly and bringing your dog into the local coffee shop is no big deal. What is surprising is just how many dogs live in our 7×7 city—there are A LOT of canine companions living here. About 150,000 to be exact, with a strong-majority being owned by renters, not homeowners.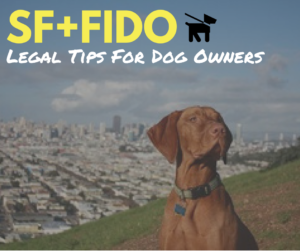 In our experience, people often don't understand the financial and legal exposure that comes with owning a dog. Did you know that an average dog bite injury case that we handle is typically valued around $20,000. That's a potential $20,000 bill every time you are out and about with your dog or have friends over.
Scary right? That's why it's important to become aware of this potential liability and learn what you can do to protect yourself. Read on!
Dog Owners That Are Renters
This group is the largest in San Francisco and the most susceptible to finding themselves financially exposed to a legal claim because they are least likely to carry insurance that covers them for their dog's bad behavior.  Remember, anytime a dog bites someone in public or in their home (if invited in) they are responsible. California has a "strict liability" dog bite law, which makes it very easy to place responsibility on the owners. 
TENANT TIP: Protect yourself and get renters insurance. Renters insurance will not only protect a renter's belongings from theft and fire, but will also protect them from personal liability, including injury claims if their dog bites someone. It's inexpensive too. A quick online quote with a leading insurance company, showed $21/month in order to be protected up to $50,000.

Also, consider a soft muzzle if your dog is going to be around big crowds or small children.
Landlord's of Tenant Dog Owners
While the tenant is clearly responsible for their dog, landlords can also find themselves in the middle of a personal injury claim if their tenant doesn't have renters insurance (and the circumstances are right—read on). Most homeowners carry homeowners insurance, but only 41% of tenants have renters insurance. 
When no insurance is available for the tenant, personal injury lawyers (like us) will sniff around looking for an insurance policy to lock onto to cover their client's damages. That means that a good (and dogged) personal injury lawyer might focus their attention on the landlord to determine if they fit the criteria for when a landlord can be held vicariously liable for their tenant's dog if the tenant is uninsured.
What is that criteria?
A landlord can be responsible for a tenant's dog when the landlord knows that their tenant's dog was present on their property and knows of the dog's dangerous/vicious nature and could have prevented the dog bite by terminating the dog owner's monthly tenancy.
Note: there is case law that holds that the dangerous/vicious nature of the dog can be inferred from a dog's general reputation, breed, size, and the way it was kept. So, it might not be enough for the landlord to say that they never knew about the dog behaving badly.
LANDLORD TIP: Since a majority of landlords have homeowners insurance, they will be covered up to their policy for their tenant's dog biting someone. Just because they will be covered doesn't mean that there aren't things they could do to lessen the likelihood of a claim being brought against them. For starters, make sure you are adequately covered (increased policy limits) in the event of a serious dog attack, so that you do not become personally liable.  

Also, you can implement a ban of dog breeds that have been deemed inherently dangerous: German Shepherds, Doberman Pinschers, and Pit bulls.

Lastly, consider requiring all of your tenants to carry renters insurance so that you are not vulnerable to vicarious liability claims.
If you have any questions feel free to give us a call us at
(415) 345-4282
 or send us an
Online Inquiry
.
Law Offices of Matthew J. Quinlan
3223 Webster Street
San Francisco
,
CA
94123
(415) 345-4282