**We hope you find this information with our legal perspective informative and not off-putting.  This tragedy is so fresh and so horrible that we debated weighing in on it publicly, at all.  That said, as Bay Area residents this tragedy is hitting us hard also and given our unique experience with and perspective on tragic events like this, we decided to comment on it in our blog given that a lot of people have questions about who is at fault.  We are angered by the conduct of those that are responsible and we extend our deepest sympathies to the victims and all those impacted by this tragedy.
What happened?
A structure fire that is being called one of the deadliest single-structure fires in Oakland's history broke out Friday night around 11:30pm at 1305 31st Avenue in Oakland, CA.  At least 9 people have been confirmed dead as of Saturday morning, December 3rd, with fire officials warning that the number may rise as they are able to search through the burned structure.  As many as two dozen people are still unaccounted for.  The fire occurred at a two-story live/work building that housed an artist collective/studio known as "Satya Yuga" and multiple residences housing more than a dozen people at 1305 31st Avenue, which is near International Boulevard in the Fruitvale neighborhood.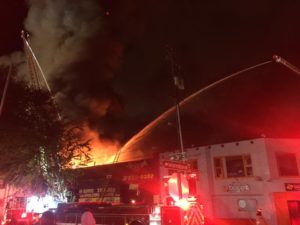 The fire occurred during an "underground" club party that was taking place in the building that is being described by some as a "rave cave."  The gathering, known as the "100% Silk Party" was an electronic music showcase that was part of musician Golden Donna's '100% Silk' West Coast tour, who served as the headliner DJ, with other DJs such as Cherushii and Nackt also performing for the crowd of over 100.  The party was advertised online, including on Facebook, where more than 200 people were registered to attend, with another 400+ "interested" in attending.  The large majority of the party goers were between 20–40 years old.
Who is legally responsible for this tragedy?
While the cause of the fire is still under investigation, Oakland Fire Chief Teresa Deloach-Reed has disclosed that there was no sprinkler system in the two-story building and there is no evidence smoke detectors were activated.  Another party goer claimed that the fire extinguisher found within the structure didn't work.  Making the fire worse and escape more difficult was the fact that the first floor was filled with clutter, including mannequins, furniture and art. "It was filled end to end with furniture, whatnot, collections," Deloach-Reed said. "It was like a maze almost." Deloach-Reed said that fire crews also found a "makeshift stairwell' between the first and second floor, she said.  Most/all of the fatalities were said to have been on the second floor.
What seems clear to us as San Francisco and Oakland personal injury lawyers that also handle fire claims in Northern California is the fact that the California building code violations, such as a lack of sprinklers and working smoke detectors, "makeshift" stairwells and wall-to-wall clutter were substantial factors in why this turned into a tragedy with people losing their lives and being injured in their escape efforts.  It seems that this tragedy was entirely avoidable.  For that reason, we anticipate wrongful death lawsuits and personal injury claims to arise.  Owners of the 1305 31st Avenue building and the artist collective where the party took place had a responsibility to keep the building "up to code" as it relates to the California building code and fire code.  Furthermore, organizers of the party bore a heavy responsibility to provide a safe venue for paying party-goers attending the event.  Lastly, The City of Oakland may be responsible if they knew or should have known about the condition and use of the property and failed to act.
According to an investigation being done by NBC Bay Area, this building was under investigation by the Oakland Planning and Building Department for an "illegal interior building structure" before last night's tragedy.  NBC Bay Area reports that property records indicate the building was owned by a trust that was created by Chor N Ng, who also seems to own more than a half-dozen buildings in the Bay Area.  Shockingly, the report indicates that the stairwell connecting the two floors may have been hastily constructed out of wooden pallets.  The stairwell is believed to be a major contributor to victims inability to escape.  Clearly the building owner bears fault for the sub-standard condition of his/her/its property.
The City of Oakland may also bear fault for the tragedy.  According to reports, the building was the subject of many complaints and the City of Oakland was said to be well aware of the issues at the building, including its misuse as a residential property and a venue for parties.  The City had an opportunity to eliminate the risk by enforcing local regulations on the known problem-building.  Practically speaking, it is likely that City of Oakland will ultimately be the primary defendant in what could be dozens of wrongful death lawsuits because the property owner, the art collective and organizers of the party are all-but-sure to be grossly under-insured given the numerous deaths involved and the lack of sophistication (our assumption) of their operations.  Claims against the City of Oakland, if any, must be brought within six months of the fire or family members may lose the right to bring a wrongful death claim.  Claims against all other non-governmental defendants are governed by a two-year statue of limitations. 
Do the loved ones of those that were lost have any legal recourse?
Yes.  They have civil recourse.  Owners of the building (a trust?), owners of the artist collective, if any and organizers of the party are all potentially legally responsible for the wrongful deaths and injuries that occurred for their failure to make the building safe for all those that were present.  These entities may have insurance policies in place that will cover them for their negligence.  The City of Oakland is potentially legally responsible for it's failure to act if it knew or should haven known about the condition of the property and its inappropriate and unappoved use as a dwelling and party venue.  The City of Oakland is self-insured for claims of this nature.
If you have any questions we invite you to call us at (415) 345-4282 or submit an Online Inquiry.