The Camp Fire has become the most deadly fire in California history, with 79 confirmed dead as of this writing. Additionally, hundreds are still unaccounted for as fire fighters attempt to completely subdue the blaze. The Camp Fire, which originated east of Chico in Butte County, swept through the cities of Paradise, Concow, Parkhill and Magalia without warning on November 8th, destroying more than 150,000 acres and more than 10,000 homes according to state officials. Shockingly, the Camp Fire, like the "Wine Country Fires" of October 2017, appears to be the result of PG&E's negligence and faulty equipment.
Who is Responsible for the Camp Fire?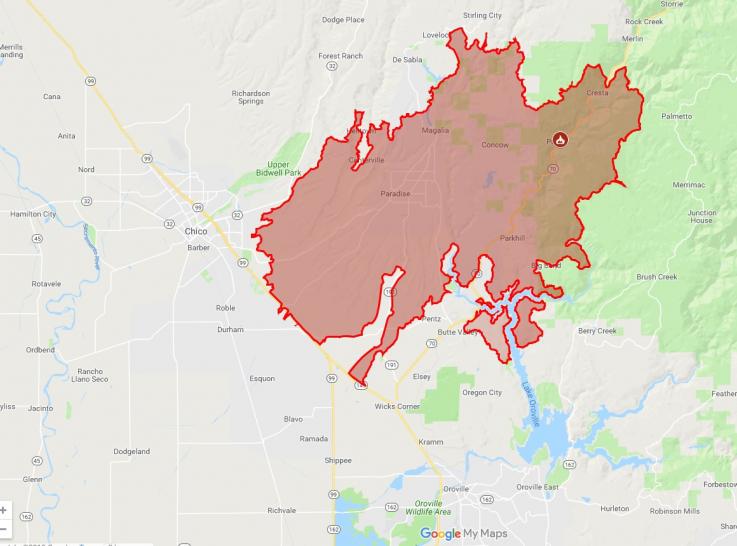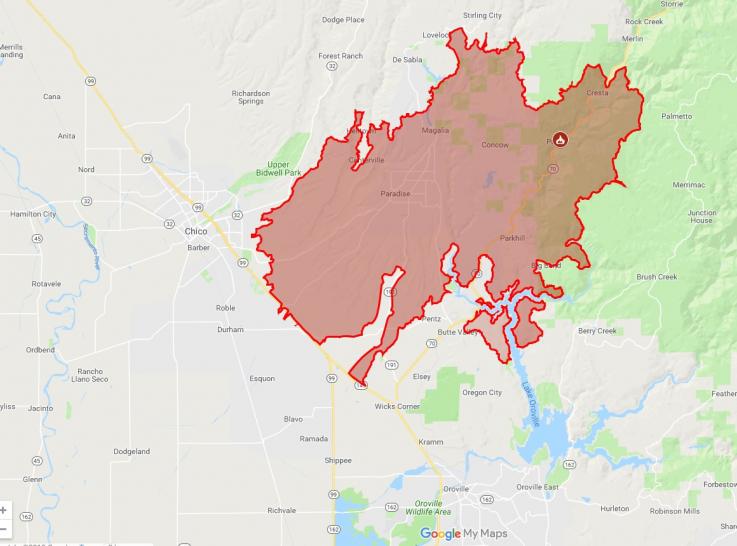 Although the cause of the Camp Fire is still under official investigation by CAL FIRE, our San Francisco fire claims lawyers believe PG&E, a private utility company providing power to Butte County, is to blame for the spark that took lives, homes and businesses in Paradise, Concow, Parkhill, Magalia and the surroundings areas. Preliminary investigation and reporting indicates that the condition of PG&E's power poles, power lines and/or transformers (negligent maintenance) may be to blame for starting the Camp Fire.
It has been reported that prior to the blaze, which started about 6:30 a.m. on November 8th, PG&E detected a line outage on a 115kV Transmission line near the Poe Dam in Pulga and a subsequent aerial patrol confirmed that a PG&E transmission tower was damaged and power lines were down. What's more, this all occurred during what is called a "Red Flag" alert in Butte County where PG&E had informed property owners that the company may proactively cut power given the expected high-winds and low humidity (increased risk factors for fire).
These facts, coupled with CAL FIRE's recent conclusion that PG&E was responsible for the 2017 Wine Country Fires, which we are also involved in, raises our suspicion to the point that we have begun taking on clients related to the Camp Fire. We are prepared to advance our time, money and legal expertise to ensure that fire victims are properly compensated for their losses.PG&E did not cut power prior to the ignition of the Camp Fire despite the presence of the high winds and low humidity that it feared. PG&E was also apparently aware that that the power lines and/or transformers where the blaze started were in need of repair and had emailed a Butte County resident of PG&E's need to inspect and replace equipment on her property the day prior to the blaze.
DID YOU KNOW: Records indicate that in the last 100 years, 99% of all wildfires in Northern California were started by humans. This was not an act of nature.
Should PG&E's negligence be to blame for the Camp Fire, as our attorneys suspect, PG&E will be responsible for compensating fire victims for their losses far beyond any claims that would be covered by a victim's homeowners or renters insurance, if they were fortunate enough to have a policy in place at the time of the fire. The stakes involved are astronomical. Citigroup Inc. has estimated that damages related to the Camp Fire may exceed 15 billion dollars, which PG&E would be responsible for if found liable for causing the fire. Add this to the estimated 18 billion dollar liability PG&E faces from the 2017 Wine Country Fires, and PG&E may be required to pay NorCal fire victims over 30 billion dollars. This has led many to fear that PG&E may seek bankruptcy protection, and given our representation of victims of both fires, this is a storyline that we have tracked closely. Fortunately for our clients, it appears that the state is not going to allow that to happen and is working on a solution for PG&E that will allow them to cover their potential financial liabilities to Camp Fire victims and stay in business. A solution has already been crafted for PG&E related to the 2017 Wine Country Fires, which allows PG&E to sell bonds backed by customers to cover its liabilities.
We Are Filing Lawsuits Against PG&E on Behalf of Camp Fire Victims
We are experienced San Francisco wildfire lawyers that are now pursuing claims for Camp Fire victims based on our belief that PG&E is likely responsible for the fire. We are already representing victims of the 2017 Wine Country Fires (Tubbs Fire, Atlas Fire and Nuns Fire, among others) in their claims against PG&E. Damages for Camp Fire victims include the wrongful deaths of loved ones, personal property loss, destroyed homes, and severe emotional damages related to these losses. We have a history of successfully litigating suits against PG&E and have represented many Northern CA fire victims in the past, including Valley Fire victims in their claims for damages most recently. Further, we are located in San Francisco where a judge has order all fire claims against PG&E to be filed and handled.
We are representing all of our clients on a contingency fee basis (33/40%), which means we are only paid if we win their case against PG&E. We are also prepared to advance all costs necessary to pursue their claims. If nothing is recovered, our clients do not owe us anything for our time or the money we spend pursuing their case. We invite you to contact us for a free consultation at (415) 345-4282 to discuss your claim or fill out the form below. You are welcome to visit us in our San Francisco office, or if you would prefer, we can handle all the information-intake and paperwork over the phone and via email to get the ball rolling and schedule a time to get together in person down the road when it is more convenient.